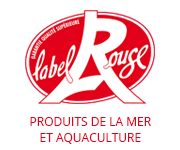 Label Rouge is the best known official mark of quality and origin, with 91.8% consumer awareness (source: Credoc 2007)
It is, however, often associated with terrestrial products and few consumers are aware of the existence of Label Rouge seafood and aquaculture products.
But more than 20 aquatic products currently hold this prestigious award:
Farmed fish and shellfish : bass, shrimp, pousse en claire oysters, green fine de claires oysters, fresh salmon, smoked salmon, smoked trout, fresh trout, meagre, turbot.
Fishery products: scallops, smoked herring, tinned sardines, fresh caught sardines and sardine fillets, tinned tuna and mackerel.
Not forgetting sea salt and fish soup …. And many other sea products which are on the way to obtaining this prestigious award.
Producers who share the same values
The Association of Label Rouge Aquatic Products, Aqualabel, came into being in 2005 to represent the management bodies (ODGs) which own a Label Rouge quality standard.  Aqualabel is the contact point for the public authorities and FedeLIS – the Federation for products holding Label Rouge, PGI and STG.  Its main objectives are:
Promotional and communication activities for Label Rouge seafood and aquaculture products
Support and representation of its members