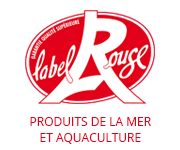 Label Rouge scallops with creamy fish sauce
To serve 4
- 12 Label Rouge Normandy scallop "noix"
- 1 dstsp butter and flour
- ½ l fish stock (or 5 tsp. fish stock powder)
- 125 g double cream
- 125 g single cream
- 150 g shelled Label Rouge Madagascar shrimps
- 1 pinch of sugar
- 1 dstsp lemon juice
- salt, pepper, dill, a few threads of saffron Tabasco sauce
Preparation
Put the butter in a frying pan with flour and melt together stirring every 1 to 2 minutes then add the fish stock and the two types of cream.
Simmer to thicken uncovered for 6 to 8 minutes. Season  with salt, pepper, lemon, sugar saffron, tabasco and dill. Leave to chill.
Just before serving reheat gently without boiling.
At the last minute, increase the heat and add the shelled shrimps.
Fry the Label Rouge scallops for two minutes each side in a little butter. Season with salt and pepper.
Lay 3 scallops on each plate and pour the cream and shrimps around  sprinkled with saffron.