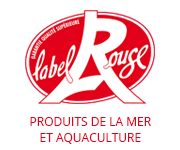 Steamed Label Rouge turbot fillet, green asparagus, frothy citrus sauce
Preparation
Wash the fruit and remove the zest in strips. Set half the zest aside. Chop the remainder finely and sauté gently in butter for around 10 minutes.
Pour through a strainer to collect the citrus butter than leave to cool.
Wash the asparagus cut off the ends and cook for 15 minutes in a large pan of boiling salted water with the tips facing up.
Prepare the sauce by mixing the flour with 1 dl of cold water. Boil ½ litre water in a pan then pour in the flour. Add salt and pepper and reduce, stirring until it reaches the right consistency. Add the citrus butter bit by bit and then the  crème fraîche. Set aside in a bain-marie.
Season the inside of the Label Rouge turbot fillets with salt and pepper. Lay on a strip of orange and lemon zest then roll up each fillet. Keep in place with a wooden cocktail stick. Place the fillets in a team basked and cook for around 10 minutes.
At the time of serving whisk the sauce to make it frothy. Arrange a few asparagus spears on the plate, with a Label Rouge turbot fillet (stick removed). Pour over the sauce and garnish with citrus zest strips.